Fall is a special time of year for many reasons. One of these reasons is persimmons, and subsequently this toast...
Growing up in Pennsylvania I ate a lot of delicious produce from my grandparents' gardens.  My paternal grandfather had gardens lining the perimeter of his backyard and grew the most delicious cucumbers and perfect little radishes that I recall my grandmother eating with butter and salt before dinner on the holidays. My maternal grandparents still grow potatoes, squash, garlic, tomatoes and eggplants among other things. I have very strong food memories that are connected to their gardens and vegetables, particularly the cucumbers – there is but one farm that grows a cucumber as delicious and my grandpa's.
What I don't have is a childhood connection to a fruit of any kind.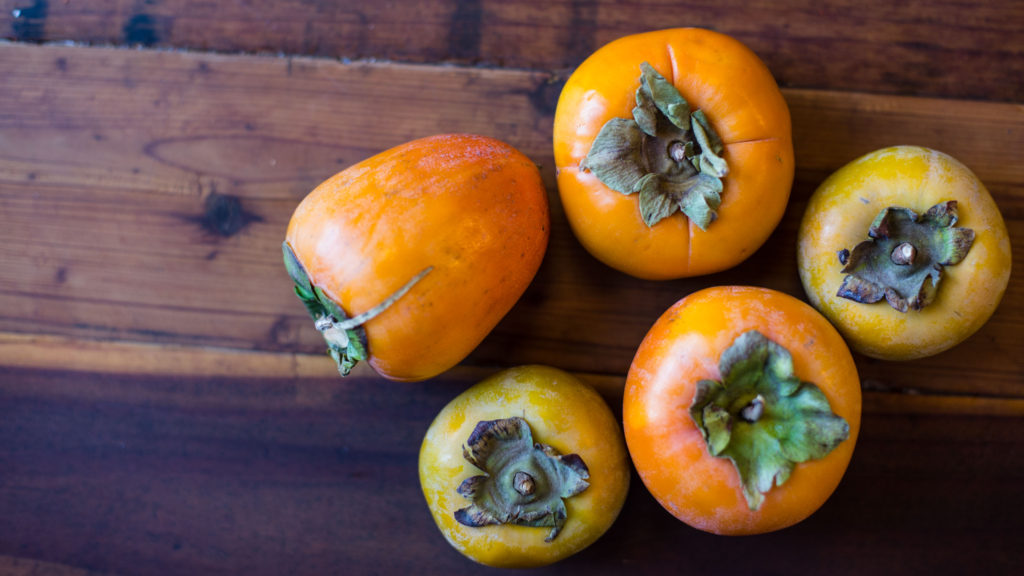 I arrived to California at the age of 27. It was August 1st, and by late September I had found my local farmer's market and was diving headfirst into a sea of produce that I had never seen before. When I saw the Fuyu persimmon for the first time I was a bit perplexed, and immediately bought one.  Then, upon arriving home, I googled "persimmon" to learn about its origins and how the heck to eat it. I sliced it thinly, spritzed it with lime juice and took my first bite.  I didn't like the lime. My second bite, sanz lime juice, was pure heaven.
My first distinct and memorable fruit moment happened in my 20s. Every September since that date is spent waiting for the arrival of persimmons at the local market followed by a months long mission to find all the delicious (and simple) ways to enjoy this unique fruit.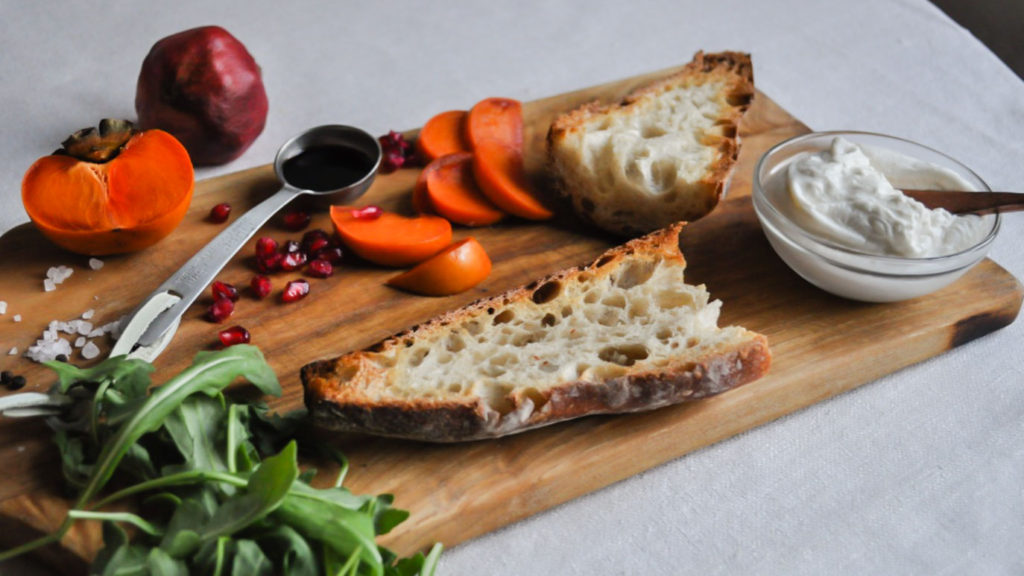 As soon as persimmons made their seasonal debut this year Melissa lured me to her studio (it wasn't hard) with the idea of a persimmon toast shoot.  I'll be right over!
We selected a perfect little baguette from her neighborhood bakery and then she got to work cutting gorgeous slabs of bread, toasting them lightly and stacking them with Bellwether Farms sheep's milk ricotta, sliced persimmon, arugula, pomegranate arels and salt + pepper.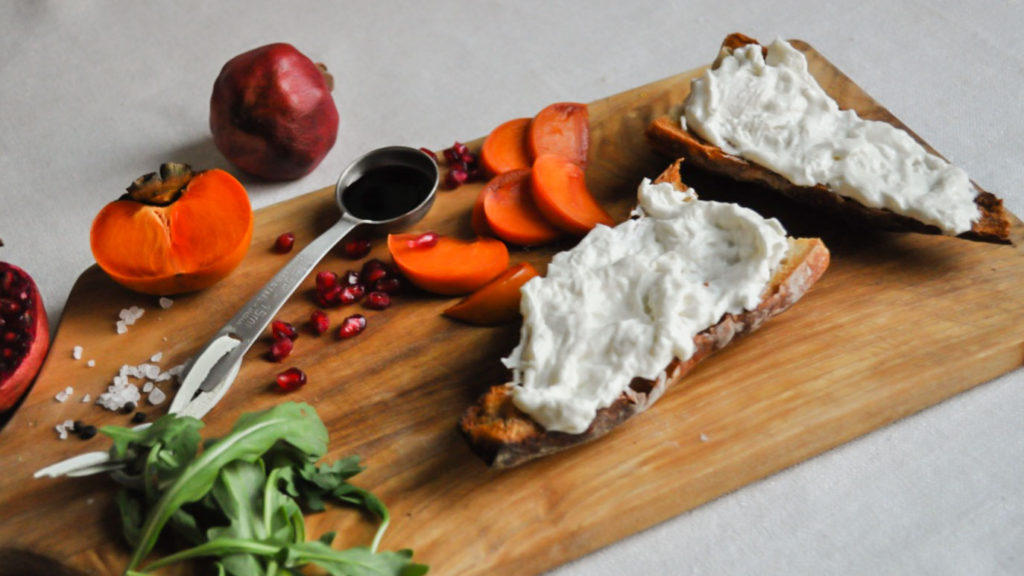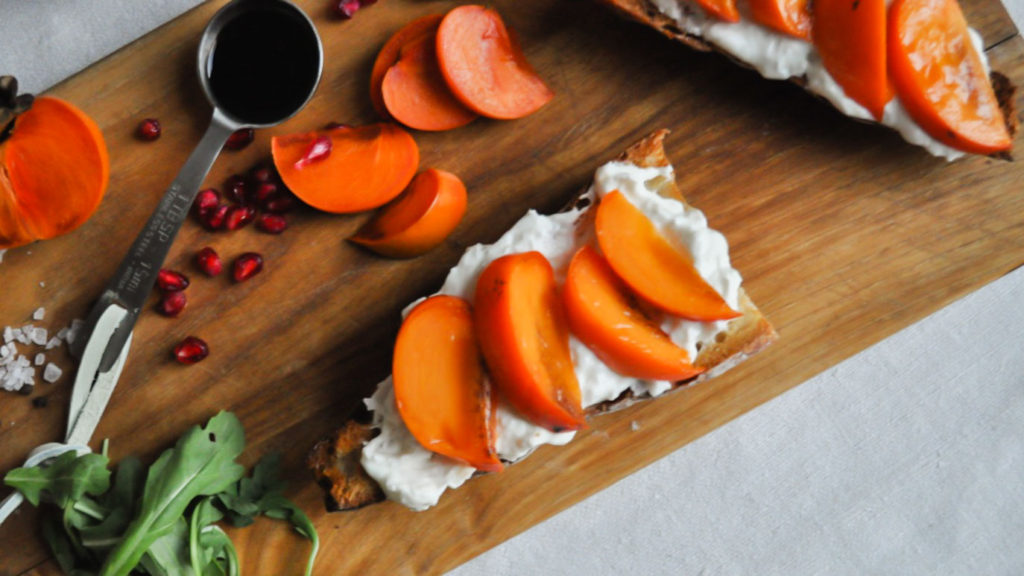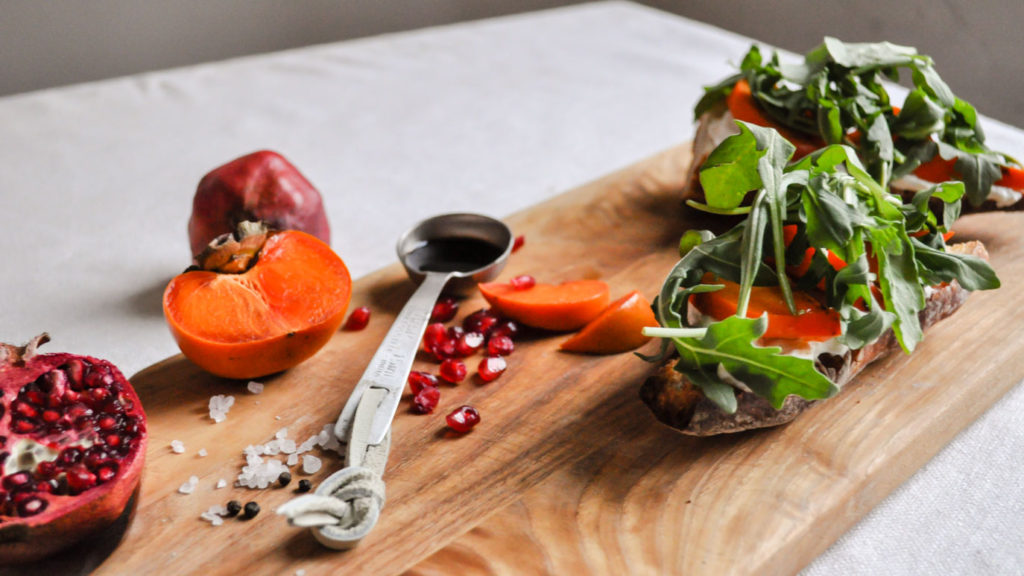 Preparation
Slice the baguette into 3-inch sections, then slice them in half lengthwise.
The goal is to have thin slices with equal parts outer crust + inner deliciousness (see the 3rd photo within the post for reference).
Lightly toast the bread. Not enough to give it color, but to crisp it up lightly so it doesn't get soggy under the ricotta.
Spread a generous spoonful of ricotta on each slice of bread then season with salt + pepper.
Add several slices of persimmon atop the seasoned ricotta, then a little pile of arugula and finally a sprinkling of pomegranate.
We suggest enjoying with a good friend.
recipe + styling | Melissa Becerra
photos | Melissa Becerra + Becca Murray
written by | Sarah Delevan