Sometimes plans made with the best intentions simply aren't meant to be, and what unfolds as a result is perfect in every way.
Our dear friend Nicolette owns a home with her husband in the hills of Mount Washington. The property has incredible views of Los Angeles and she has the type of yard that is made for entertaining. In fact, on a very hot and sunny day last summer another dear friend, Shanti, was hosting her second Forks & Vinyl dinner in the yard.  In hopes of documenting the work that goes into one of her events the L+M team decided to join the F&V team for the day.  Never ones to sit idle for very long, we planned to set up and shoot three very different party boards in three very distinct areas of the yard, and in between setups Becca would snap some pics of their process and progress. Then, we'd document Shanti's work as she orchestrated the final touches and organized drink and dinner service for her large group of guests.  We were all biting off a lot…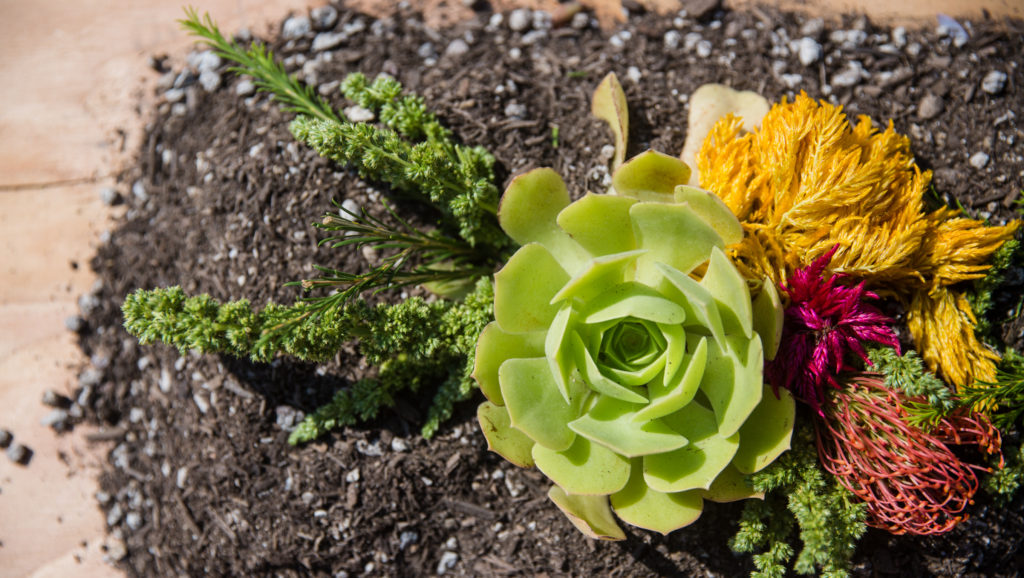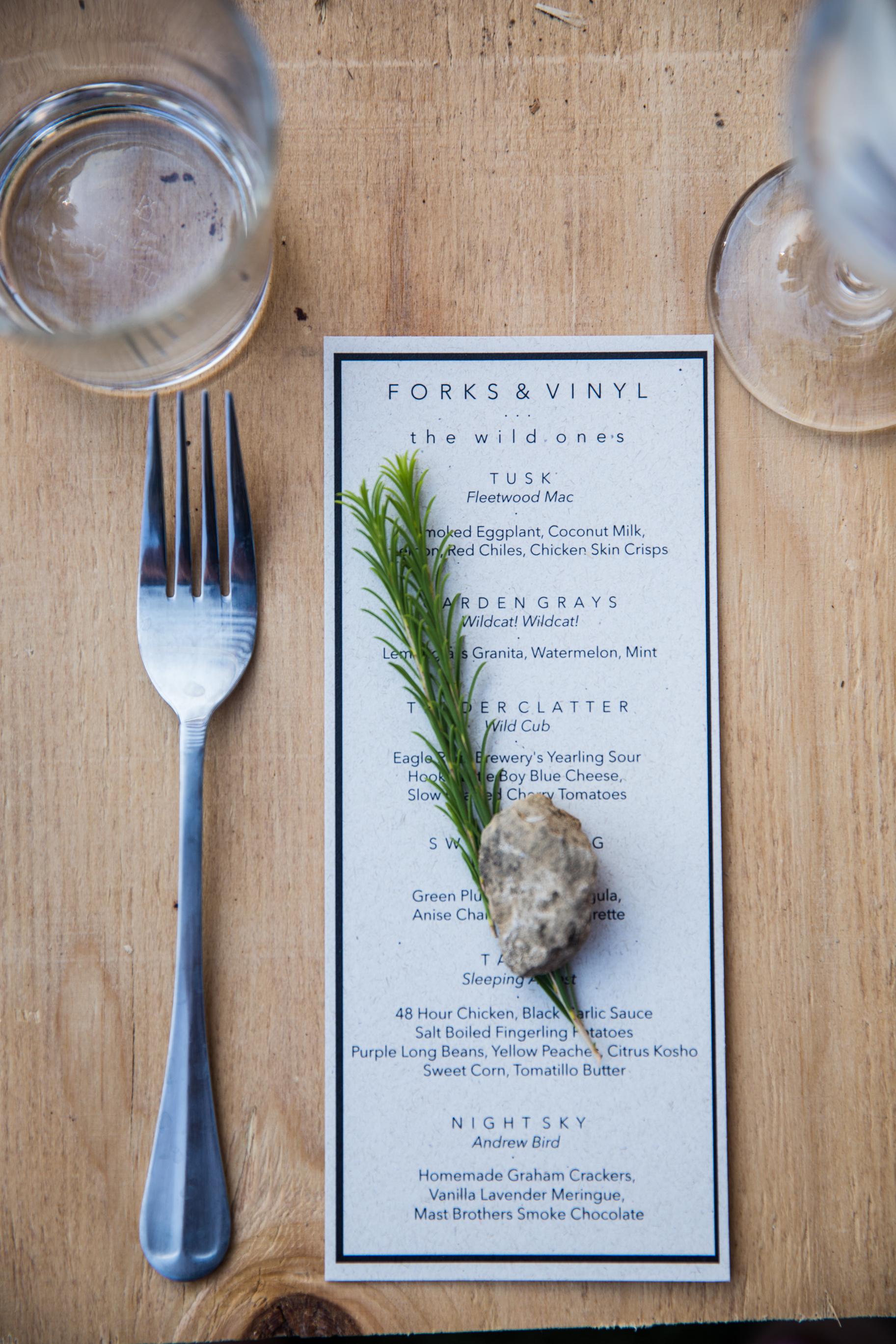 Forks & Vinyl is a food and music experience centered around the question "What does this song taste like?"  Every dinner is in a different setting designed and built by local artists + artisans, in or around Los Angeles (so far) and includes 5 courses inspired by 5 songs, curated and created by Shanti herself.
At each Forks & Vinyl event the devil really is in the details and they don't skimp one bit.  On this occasion the team created a custom art installation consisting of thick rope and beautiful strands of flowers. It hung above custom dining tables with built in centerpieces containing live succulents.  The installation perfectly enveloped guests, creating a close but not claustrophobic setting to meet, eat and share conversation. The perfectly designed and printed menus placed at each seat were topped with a sprig of fresh rosemary and a hand-selected stone. Drinks were garnished with the most gorgeous seasonal berries.
The team is small, the heat was intense and stress is no stranger to an event of this caliber. The day progressed with time inching closer to guest arrival and the heat unwavering.  As loving, caring friends and former attendees of these beautiful events it felt best to not add another layer of photography and question asking to the already full plates of this very talented team.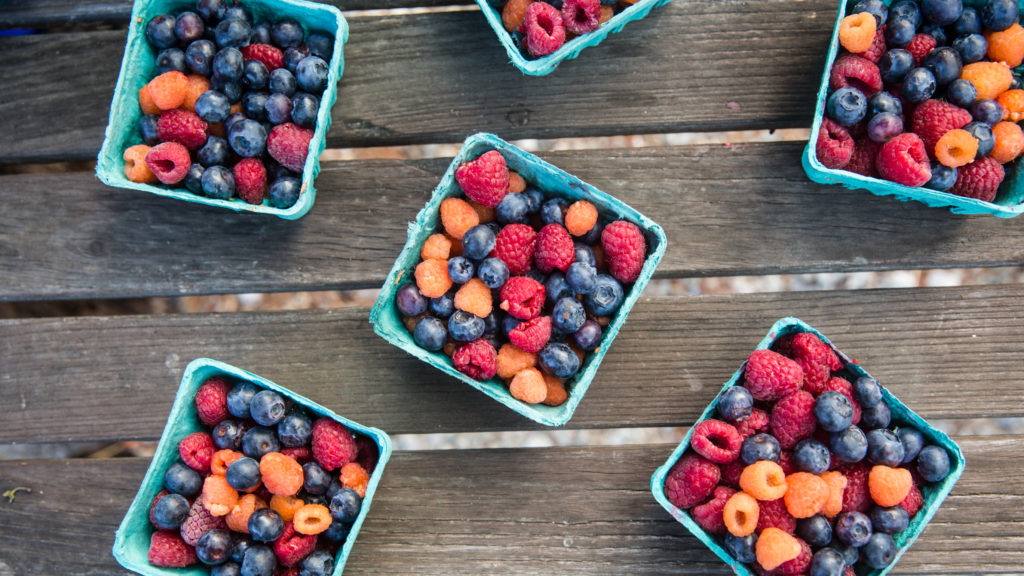 With the decision to be flies on the wall, at most, for the Forks & Vinyl event, our plans were changing for the evening. Then, as we were wrapping up our final shoot in the main yard our friend Daniel showed up! He, Nicolette, Melissa, Shanti and I all worked together until a few months before the shoot. He had mentioned stopping by to see everyone but there were no concrete plans. Daniel brings light and laughter to any gathering that can only be matched by Nicolette's energy and infectious smile. We were all very excited to be back together.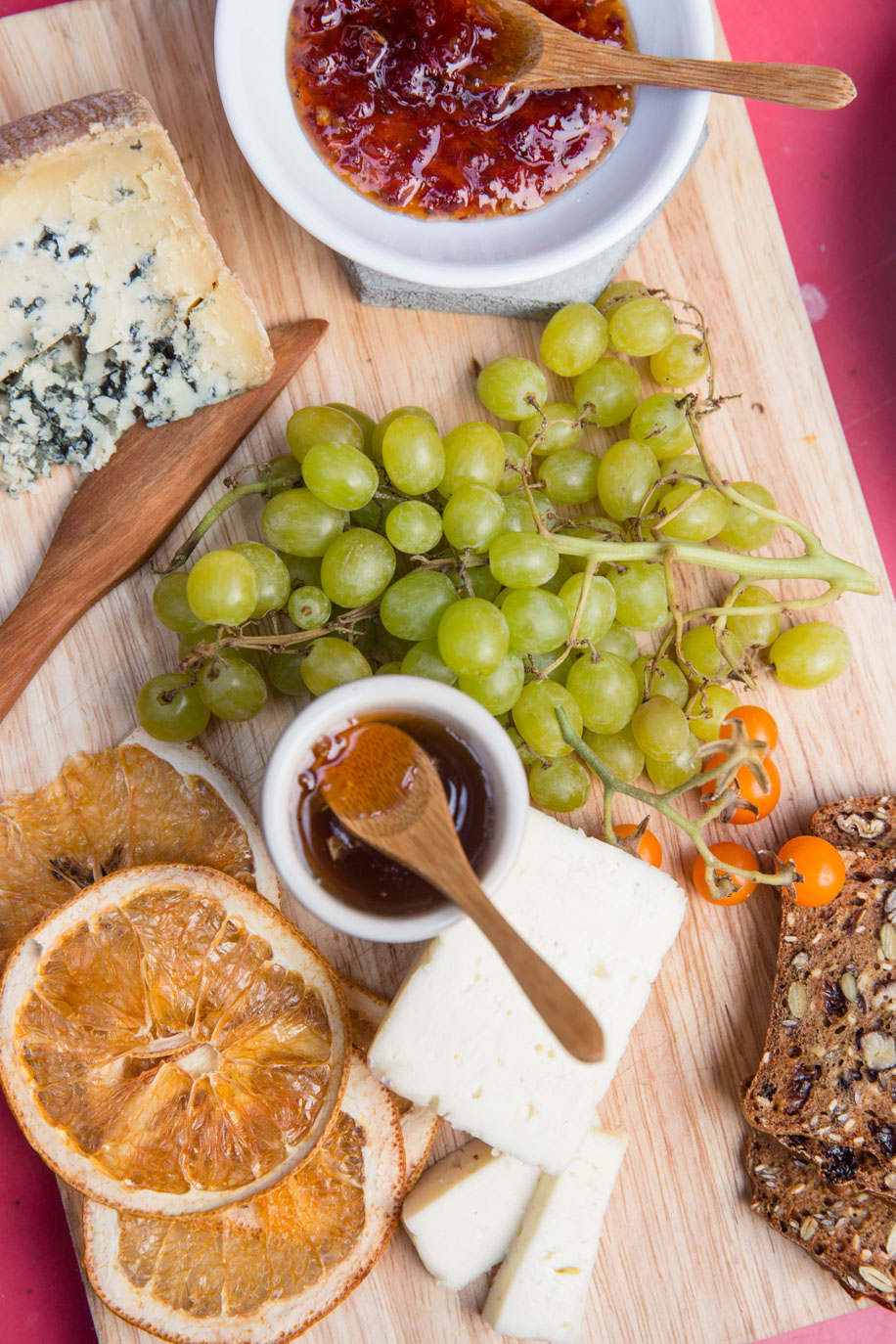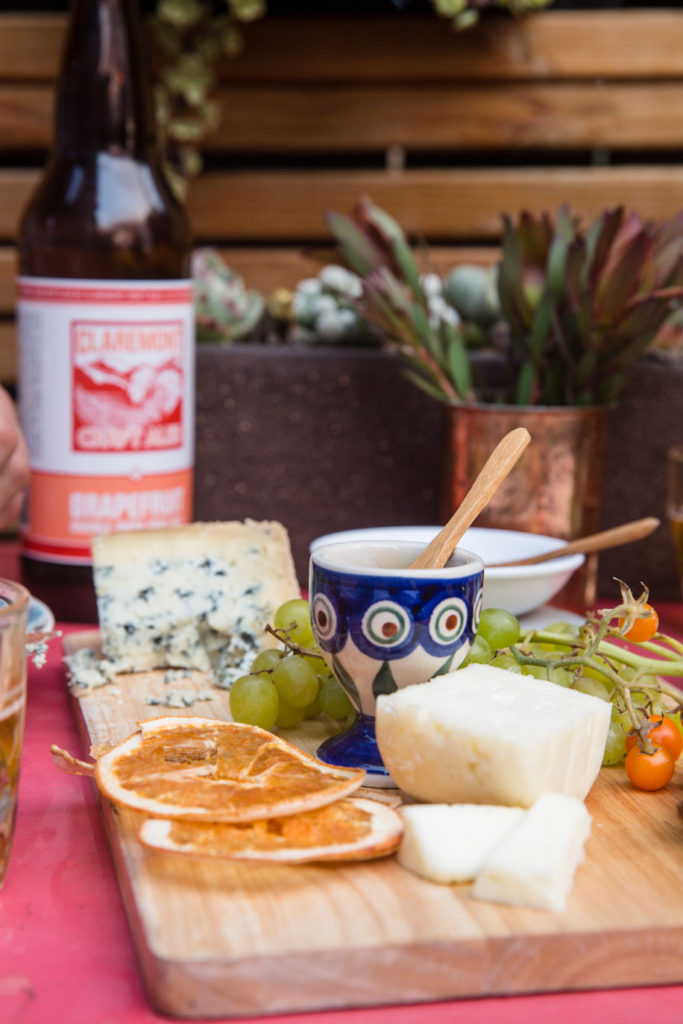 Eager to move our 'work' out of the sight of dinner guests that would soon be arriving, we moved our coolers, linens, and boxes full of platters, bowls and glasses to the side of the house where we discovered the cutest little pink table and potted garden Nicolette had created just outside of her guest room.  It was here, it this little hidden nook of the yard (with equally gorgeous city views) that we would build our final party board of the night to munch on with friends, and of course take a few photos.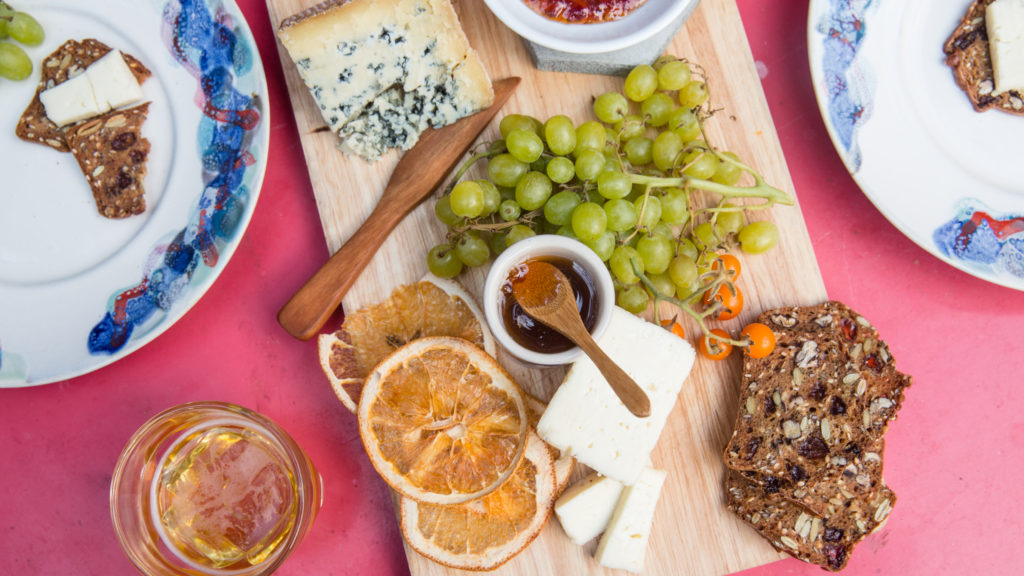 This board was built with bold flavors and wild flavor combinations in mind.  We had grapefruit beer in our cooler, and as soon as I tasted it I had the craziest idea to pair it with the unique 60% cow's milk, 40% sheep's milk blue cheese from Bleating Heart Creamy.  I whispered my thoughts to the ladies as they each took a sip of the beer, and then to Daniel, and they all agreed we should give it shot. Honey and grapes would soften the sharpness of the cheese and cleanse our palettes, respectively.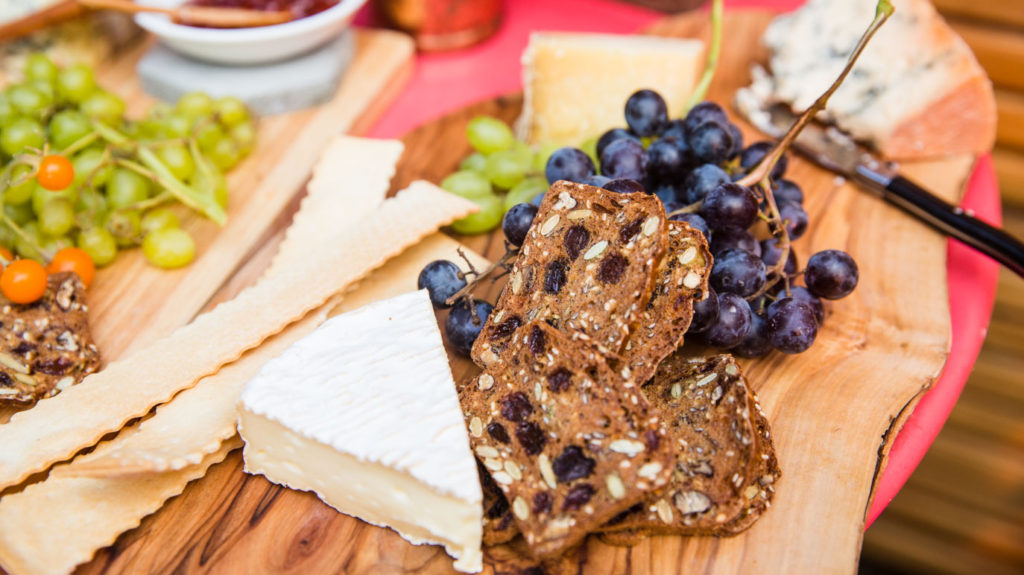 To counter the blue cheese we chose Jasper Hill's creamy, mild, Moses Sleeper and Marin French's Breakfast Cheese. To keep things interesting we paired the breakfast cheese with M. Greenwood's Roasted Three Pepper Jam. Melissa plucked some ripe sungold tomatoes from Nicolette's garden and piled a few Rustic Bakery crackers and flatbreads on the boards.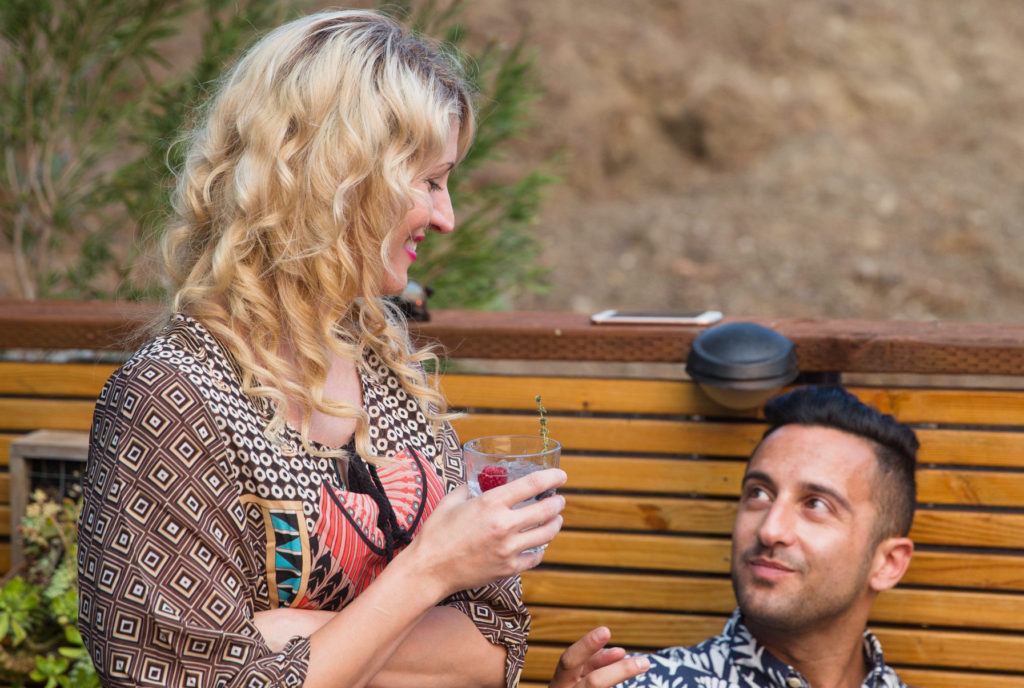 We gathered together to catch up and eat – Becca sneaking photos in between bites.  The Forks & Vinyl dinner went off without a hitch in the main yard, and we sat together listening to the music of Shanti's Vinyl Hour, followed by the songs of the 5 course meal, and then the hum of her guests talking into the night.
We sat snug at the tiny table overlooking the city for hours after the sun was down, not one of us with anywhere else to be. It was the perfect impromptu celebration of friends and good food and we were all thankful for this night that unfolded perfectly without a plan.
styling | Melissa Becerra
photos | Becca Murray
written by | Sarah Delevan