We got together to discuss Shonda Rhimes' Year of Yes, but this brunch party board kinda stole the show...
Sorry Ms. Rhimes! We totally loved your book. And this party board, full of satisfying-yet-nutritious food, was created in homage to your journey. But it was a bit difficult to settle into our seats and focus on anything other than building delicious paleo-friendly toasts and exploring every nook and cranny to create the perfect plate.
We eventually did settle down – with a second or third plate and a seasonal mimosa in hand – and shared a conversation about work, love, friendship and how to balance the desire to say YES with the need to say NO. Shonda (we're definitely on a first name basis now) covers the gamut and allows herself to be vulnerable throughout the book, especially when it comes to food and body issues. And relationships. And career. Okay, she's a total boss all around.
In her honor, we wanted to create a healthful party board, full of color and satiating treats that don't break the caloric bank.  Now we're sharing the ingredients and recipes that made this party board so special.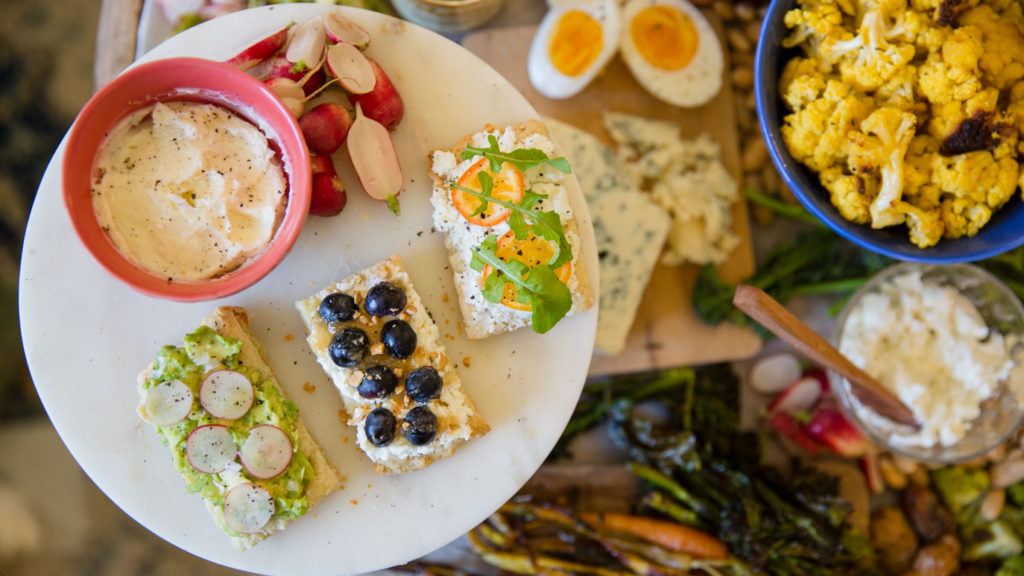 Brunch Crackers aren't a "thing", but we're hoping to start a trend…  It begins with (one of) our current obsession, Tara Grant's Magical Multipurpose Primal and Paleo Dough recipe, and ends with mashed avocado + french breakfast radishes, or creamy chevre + kumquats + arugula, or creamy chevre + blueberries + honey. Get the idea? It's like toast, but suits every dietary restriction your guests can throw at you.
Tara's recipe is legit multipurpose – great for everything from pizza dough to naan, tortillas and dinner rolls to name a few – and we couldn't possibly love it more. The recipe download will cost you $3.95, but that's less than a latte and totally worth it.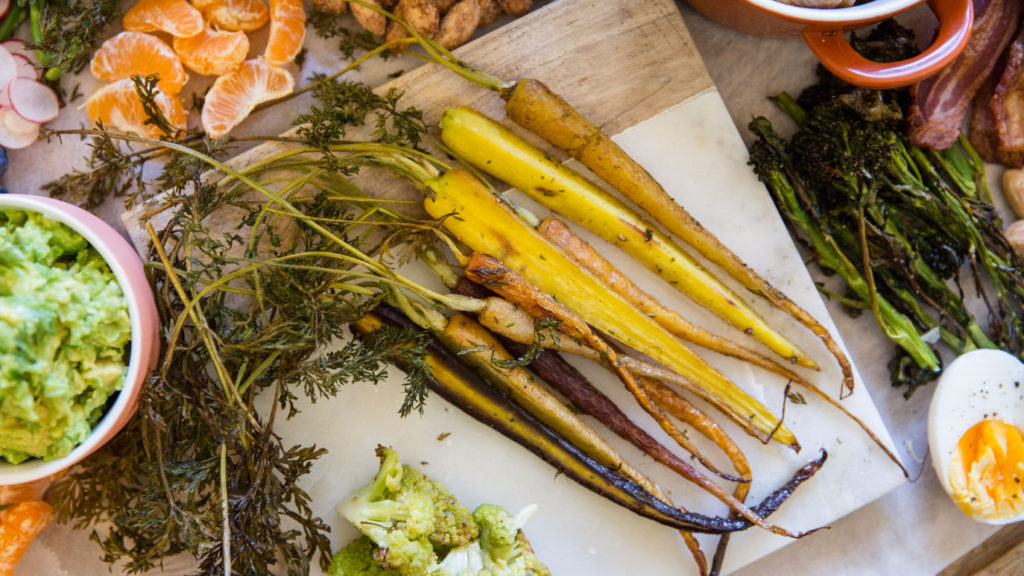 This brunch board had a colorful mix of roasted and raw seasonal veggies.  One of our favorite, and perhaps simplest, elements was this pretty marble and wood board with roasted yellow and purple carrots from Weiser Farms. Leaving the tops on while roasting created a whimsical look and the crispy greens doubled as a garnish on our crackers.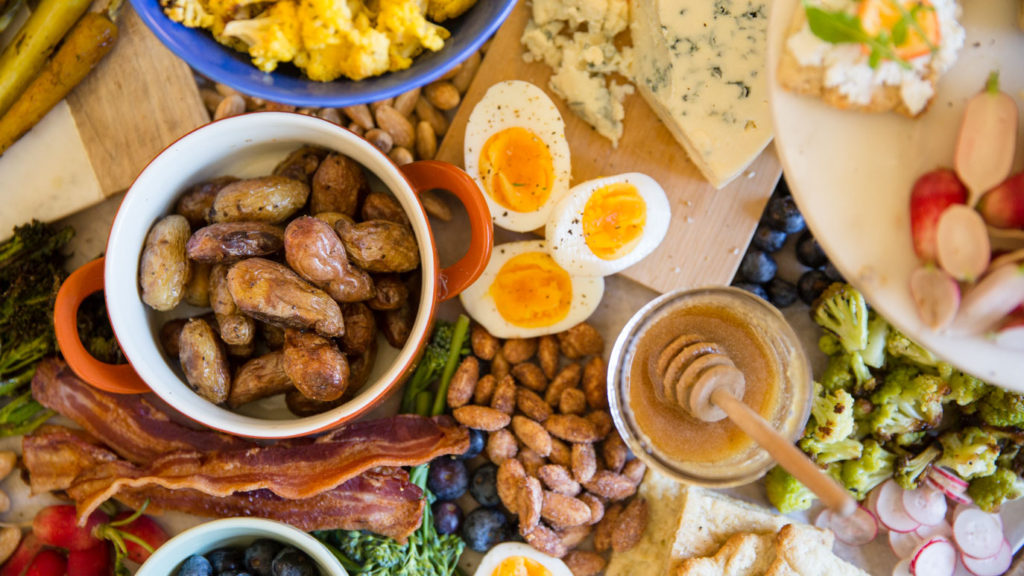 Crispy potatoes are something that we can't live without, especially on a party board! Baby Fingerlings roasted in a cast iron skillet result in tiny, crispy-skinned potatoes with a lusciously creamy center. Dip'em in fresh butter. Dip'em in mashed avocado. Eat'em straight.  You won't be disappointed.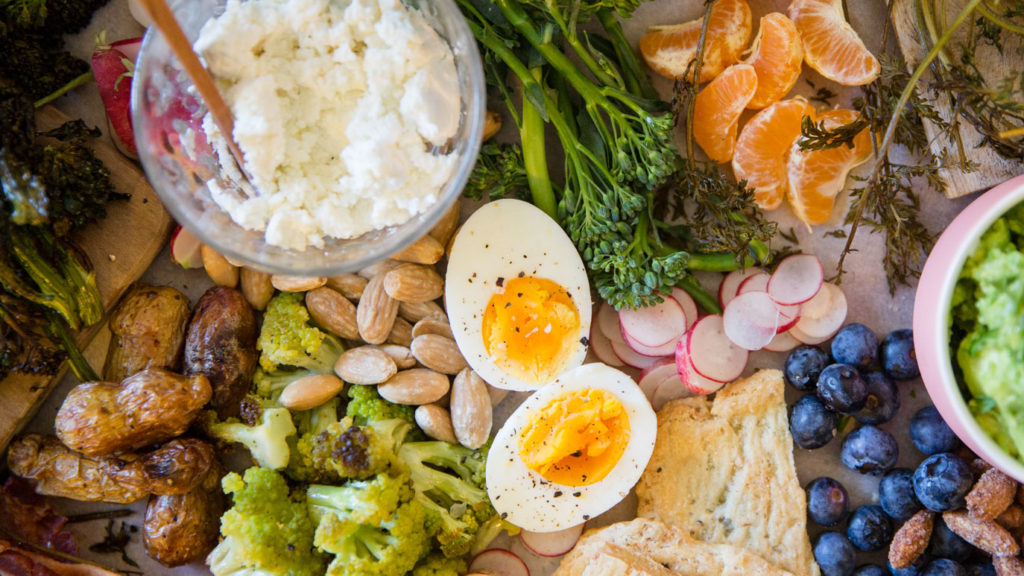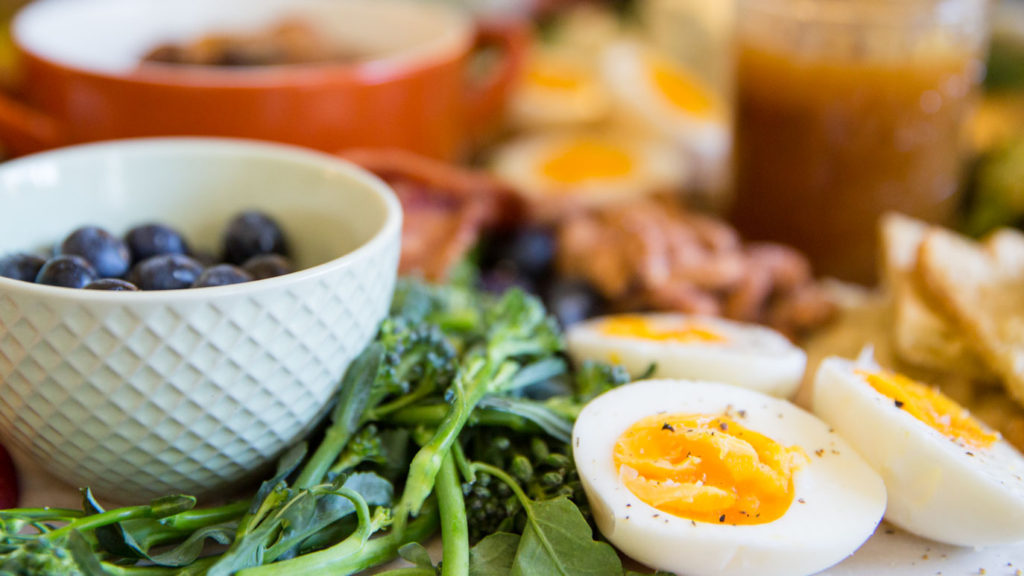 Dotted all around the board were perfectly boiled eggs, made the night before (yes, you read that right!). They are great at room temp and add the best pop of yellow. Plus, how can you brunch without a few eggs around?!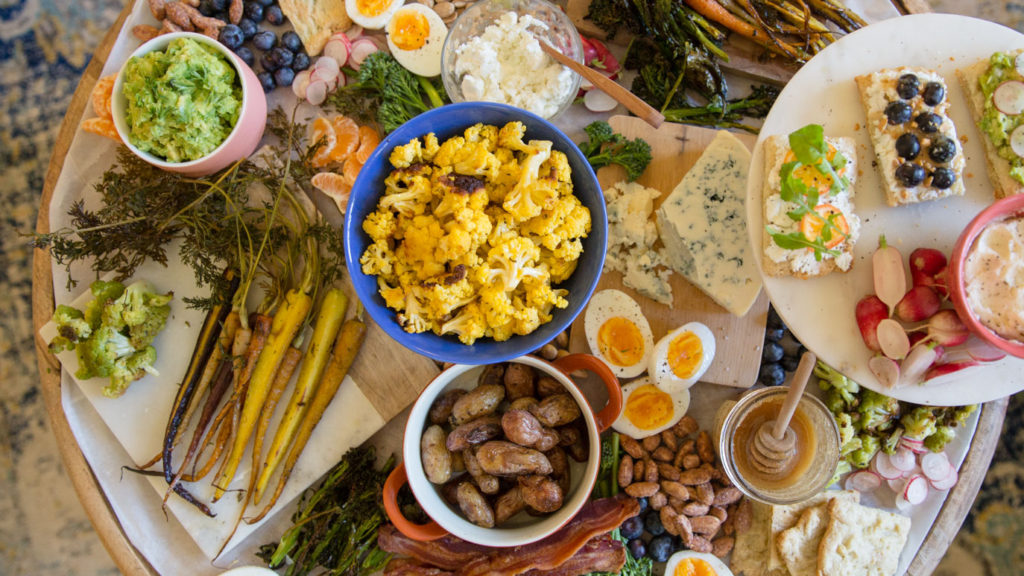 Skillet Potatoes
Baby Fingerling potatoes, cleaned but not peeled
Olive Oil
Salt + Pepper
Large cast iron skillet – should hold potatoes in a single layer.
Preheat your oven to 425F.
In the skillet, toss Baby Fingerling potatoes in olive oil and generously season with salt + pepper.
Place the skillet in hot oven and cook until skin is crisp and potato centers are tender, about 30 minutes.  Toss the potatoes around for even cooking halfway through the cook time.
Perfectly Boiled Eggs
12 large eggs
Flaky salt + Fresh-ground pepper
Large saucepan – should hold eggs in a single layer
Place the eggs a large saucepan and cover them with cool tap water. Bring the water to a boil, lower the heat and simmer for 3 minutes.
Remove the eggs from the saucepan and immediately place them in a bowl of cold water until they are completely cool. (Pro tip: put the bowl full of eggs + water into the refrigerator!)
Remove the shells and slice each egg in half lengthwise.
Sprinkle with flaky salt + fresh-ground pepper and serve.