Stylist Melissa Becerra is showing us how to build the perfect backyard cheese board for two.
We love the look of everything that Melissa Becerra puts her touch on. So, we gathered some farmstead cheeses, local fruits, and a refreshing beer, and asked her to collected some of her favorite items for a step-by-step guide to building the perfect backyard cheese board for two!
1Choose a pretty linen, towel or blanket to lay down as your table cloth or place setting. This one happens to be a cute kitchen towel.
2 Grab some flowers, a small potted plant, or even your favorite crystals for decoration.  Melissa collects cute jars and bottles, and adds flower or herb clippings.
3Pick a small wood board, gather up your cheese, fruits and crackers, and choose a comfy location to start building.
4Place the cheese and fruit on the board whole, to get a visual of how much space they take up, and to see if you like the mix of textures and colors. Bite-size and "baby" fruits are great.
5Slice a few pieces of fruit and cheese to fill in some of the open spaces and to encourage snacking.
6Add a pretty pile of crackers and a cheese knife. Then, step back to see what you think. Melissa adds a small bundle of green grapes for a pop of color.
Beverages are a must! And the cuter the glasses, the better…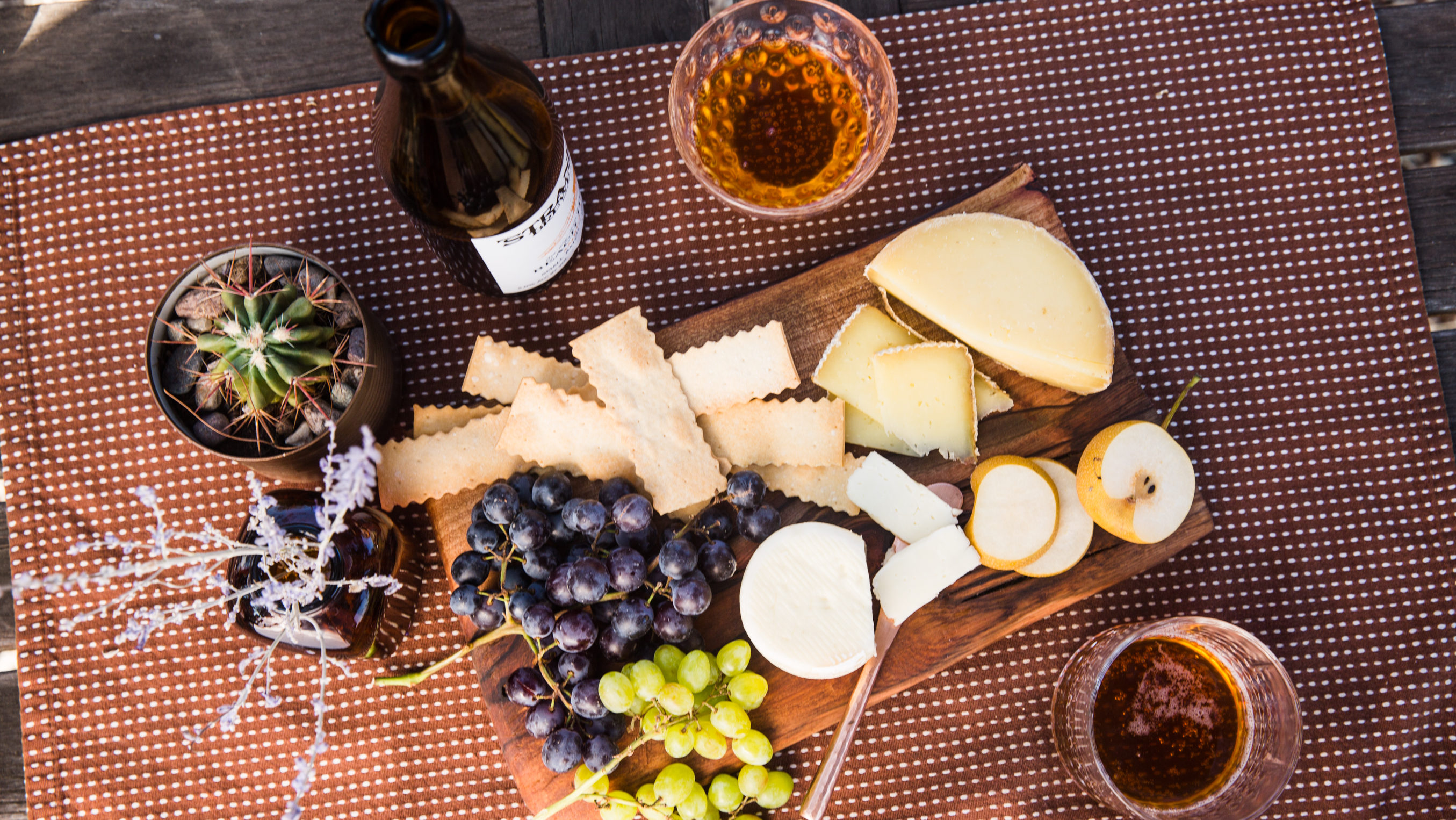 Mismatched glasses (one is actually a small antique glass bowl!) are placed on the table with a shareable bottle of cold Amber Ale, and it's time to eat.
This eclectic mix of beloved household items makes the perfect place setting for the backyard, campsite, poolside, or your favorite picnic destination. The below Resource & Shopping List connects to each of the farmstead cheeses and flatbreads for easy buying.