I'll be the first to admit it, I didn't love blue cheese a few months ago, but now, I want to explore every blue cheese there is.
It's an important part of my food sourcing job to taste any and everything that the experts I work with recommend, regardless of whether or not I 'like' what I'm about to taste. A few months back, while tasting cheeses for a client, I noticed and appreciated for the first time the various color, texture and taste differences among several blue cheeses that were laid on the tasting board. I was instructed to taste each of the cheeses in a very specific order and I experienced a 'blue cheese aha moment' for the first time. The cheeses were delicious, and immensely different from one another.
The blue cheese tasting was so wonderful and eye-opening, I knew I had to recreate the experience for our readers, especially those who are thinking, "I don't like blue cheese".
I've chosen three blue cheeses, made with the best ingredients and produced by well respected, high quality dairies and cheese makers. The flavors range from mild to bold, and we'll follow the arrows to get from start to finish.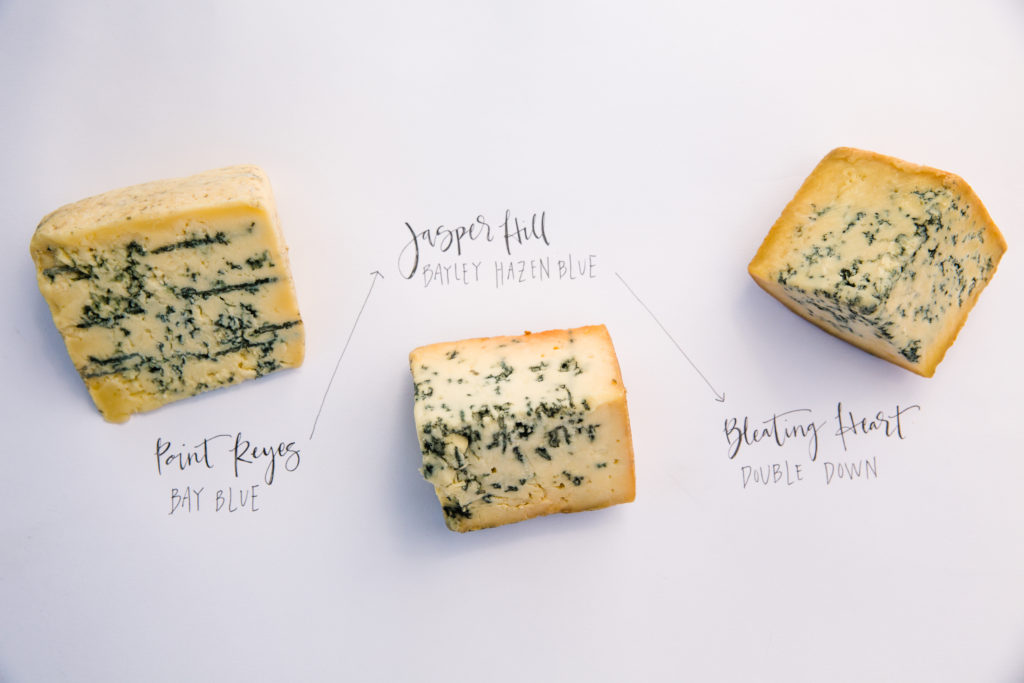 We'll start with the Point Reyes Bay Blue.  This is a delicate blue, great for people who "don't like blue cheese" or perhaps who love blue cheese "dip", but not the real deal. PLEASE, give the Point Reyes Bay Blue a try. If you don't like it, I'll never ask you to try it again. Promise.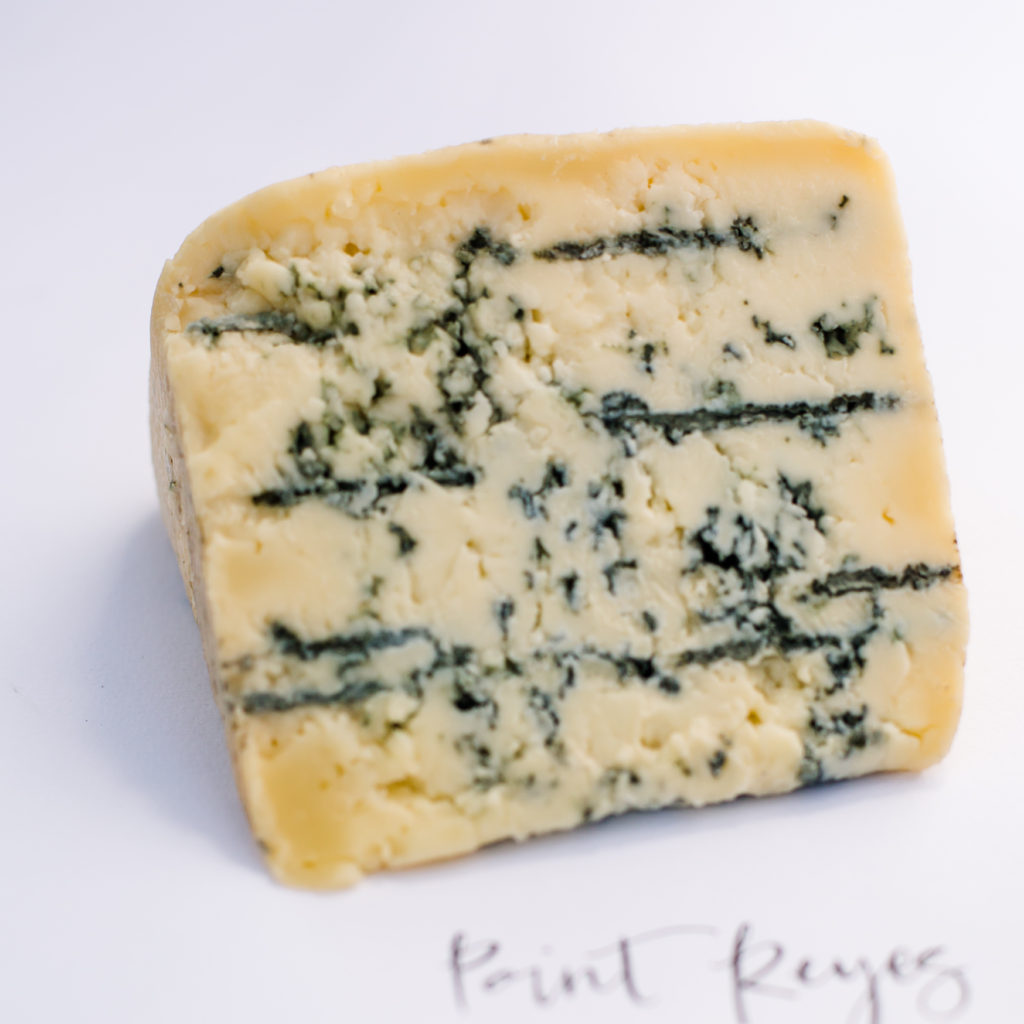 Point Reyes Bay Blue
Bay Blue is stunning with it's pretty rind, caramel colored edges and creamy white center streaked with tracks of blue mold. It is a rustic-style blue cheese reminiscent of Stilton and known for its mellow flavor and sweet, salted-caramel finish.
It pairs well with farmer's market grapes, peaches and berries in Summer, in Fall we love it with figs and crisp white wine, and for cooler months full bodied reds. A true farmstead operation located in Northern California, Point Reyes creates 100% of its cheeses with milk produced on their farm by their pasture-raised herd.
Jasper Hill Bayley Hazen Blue
Next is a great middle of the road blue good for those who are just beginning to enjoy blues, as well as for avid Blue Cheese fans. It is Vermont's Jasper Hill Farm Bayley Hazen Blue. Notice that it's more of a creamy white than the Bay Blue, and its large dots of blue mold rather than long streaks.
An award winning cheese for good reason, Bayley Hazen perfectly balances a more intense blue flavor with a super creamy texture. The folks at Jasper Hill say Bayley has "… a fudge-like texture, toasted-nut sweetness, and anise spice character." – we aren't cheese-ucated enough just yet to pick up on all of those flavors, but we are big fans!
Here's what we want you to know…. We love it on a cheese board, like this one, with a sweet wine or a dark beer, and crumbled on pizza, burgers, and salads. Jasper Hill Farm is home to Ayshire Cows that follow an intensive rotational grazing program, supplemented by a dry grass feeding plan. The result is a clean milk, that produces delicious cheeses. We love them for their farmstead cheeses and their commitment to sustainability of all forms.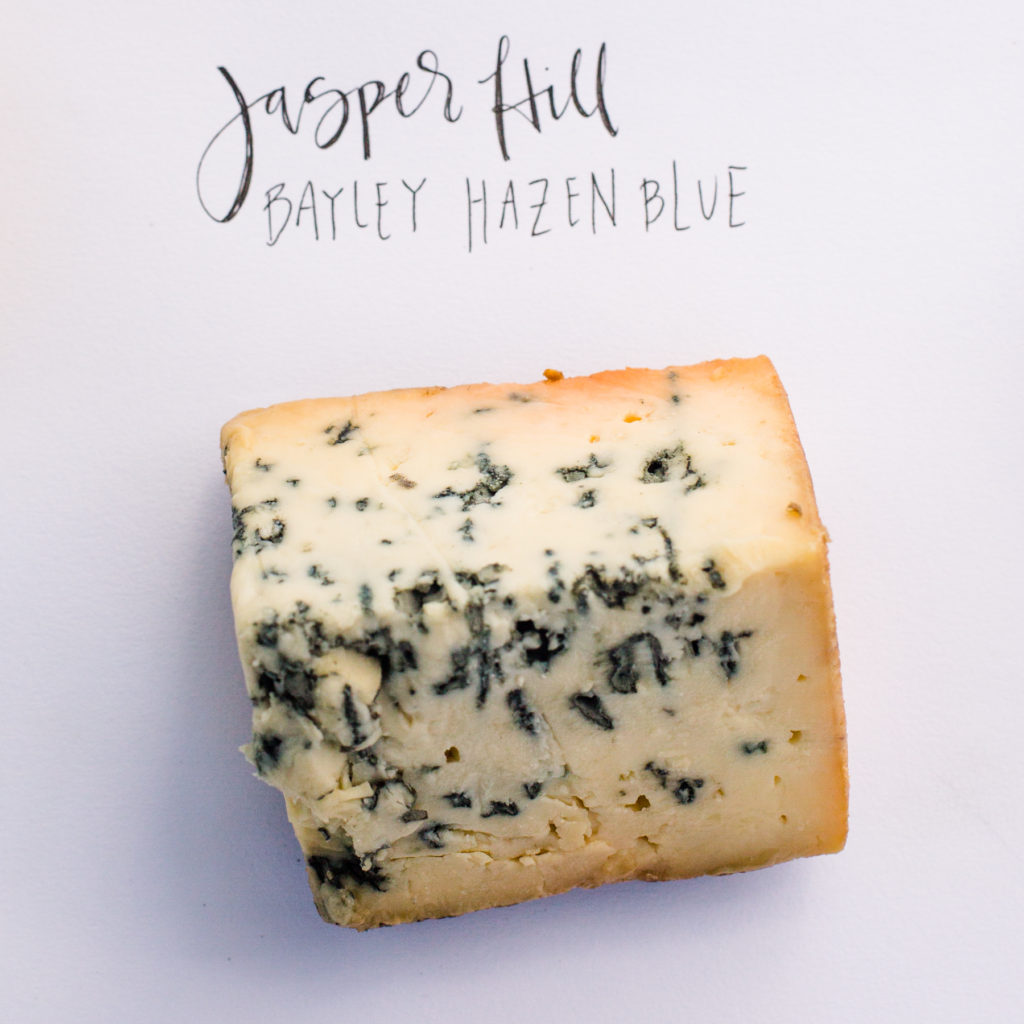 Bleating Heart's Double Down Blue
Last, but certainly not least, is Bleating Heart's "Double Down"Blue. Created in 2014, this cheese was inspired by the terrible drought in California, and the need to remain efficient while the sheep milk supply tapered off at the end of their lactation period in late Summer. Double Down is made with a mix of 60% Jersey Cow and 40% sheep's milk, but that varies a bit based on the sheep's production on a given day. Creating this cheese was a risk, but one worth taking!  The results were water conservation and a delicious cheese.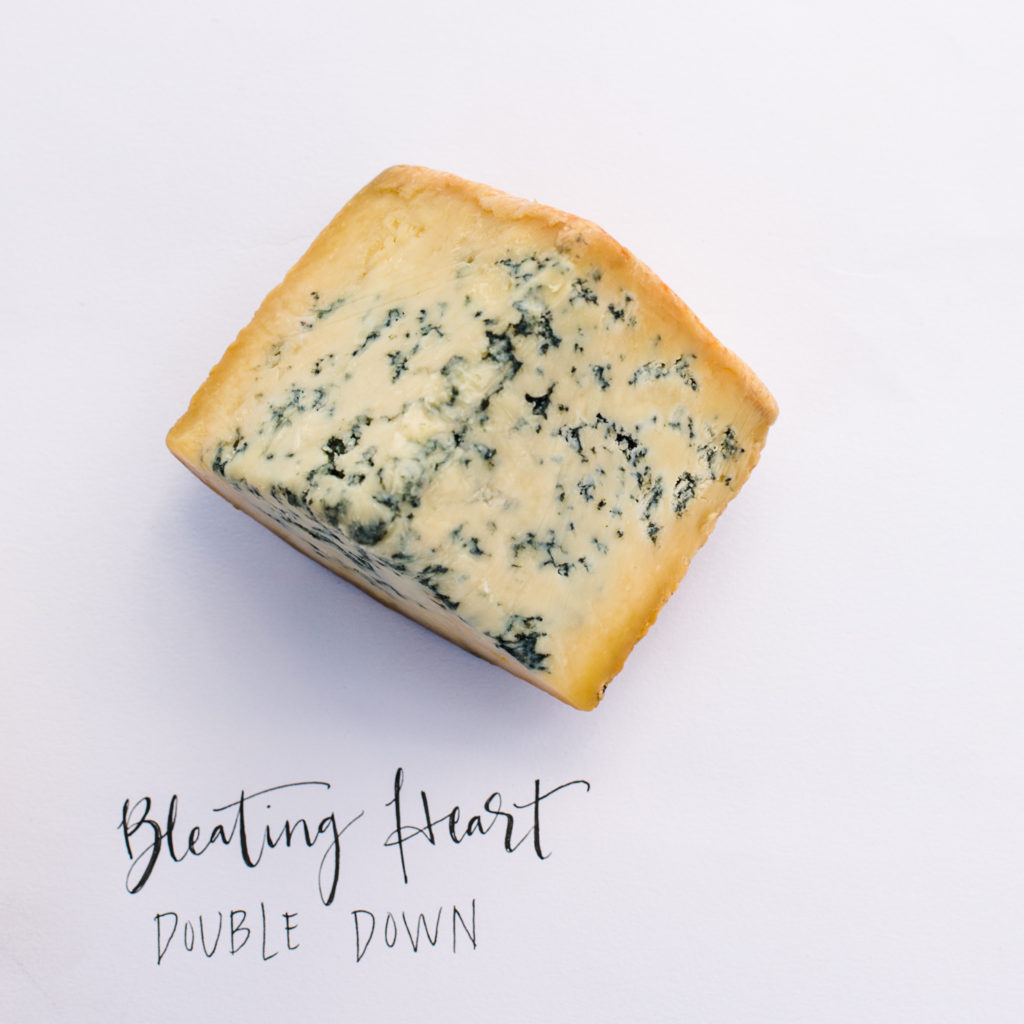 Notice that Double Down shares characteristics of both of the previous cheeses with a golden-caramel color and a mix of dots and short streaks of blue mold.
Double Down is a dryer blue, with a hint of butter flavor, and a strong salty tang. We love it with charcuterie, strawberry jam, and grapefruit beer! Check out what we paired it with for a recent get together here.
Located in the lush Sonoma-Marin cheese region north of San Francisco, founder Seana Doughty made the first batch of Bleating Heart cheese in June 2009, and has been wowing us ever sense. We love her motto of making seriously good cheese, without taking ourselves too seriously.
This is a mix of cheeses that may appear similar at first, and when referred to as 'blue cheese', but upon taking a closer look, and a small taste of each, they quickly become their own individual kind of delicious.
It's wonderful to taste the different flavors that are being created around the country, from small farms that care for their animals and their cheese so lovingly! It's truly a different kind of eating.