I don't know anyone that doesn't find a French Breakfast Radish adorable, or that doesn't marvel at the hot pink insides of a Watermelon Radish.
This is a look at a few unique radish varieties, how they differ from one another, and some simple ways to make radishes the star on your plate.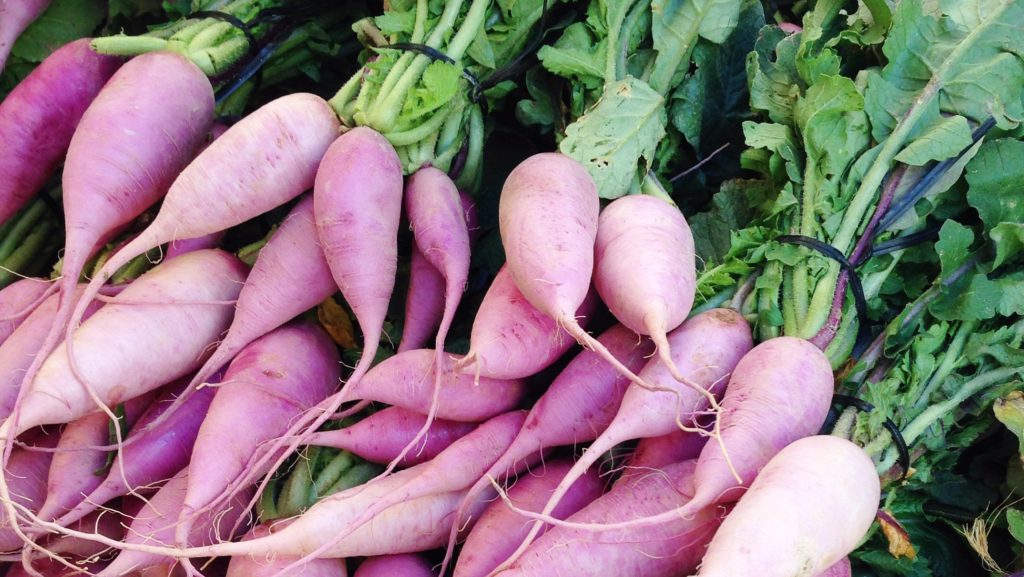 Purple Daikon
Daikon is Japanese for "long root", and that is evident in the size of this variety of radish compared to others. Commonly used for pickling, fermenting, relishes, stir-fries, salads, soups, and condiments, the Purple Daikon holds a beautiful design secret inside.  No matter which way you cut them, they're stunning and add pop to any dish.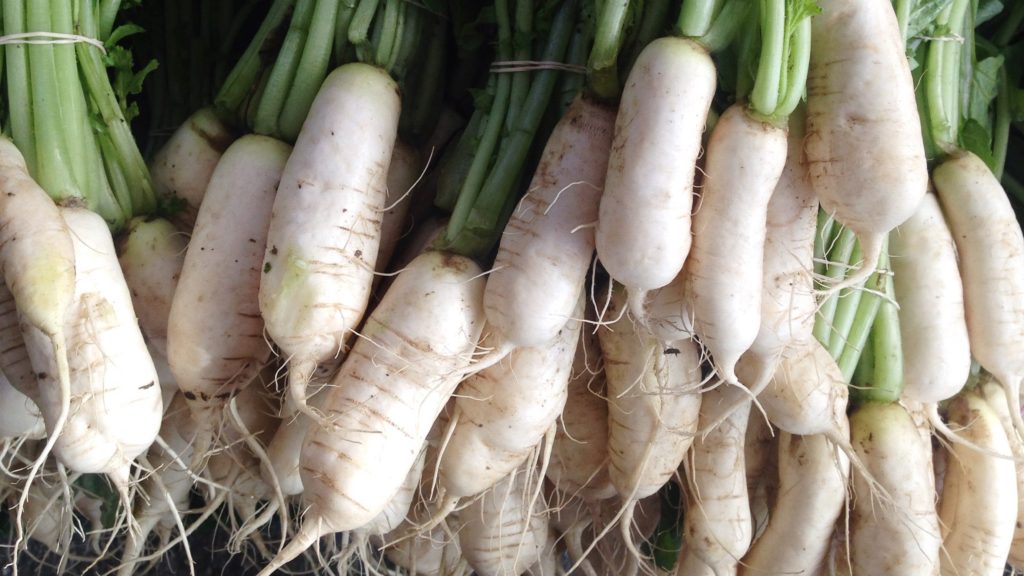 White Daikon
A mild flavored radish that is pure white inside and out. It is striking among brightly colored Fall & Winter root vegetables like hot pink turnips, purple sweet potatoes, and orange carrots. Beautiful!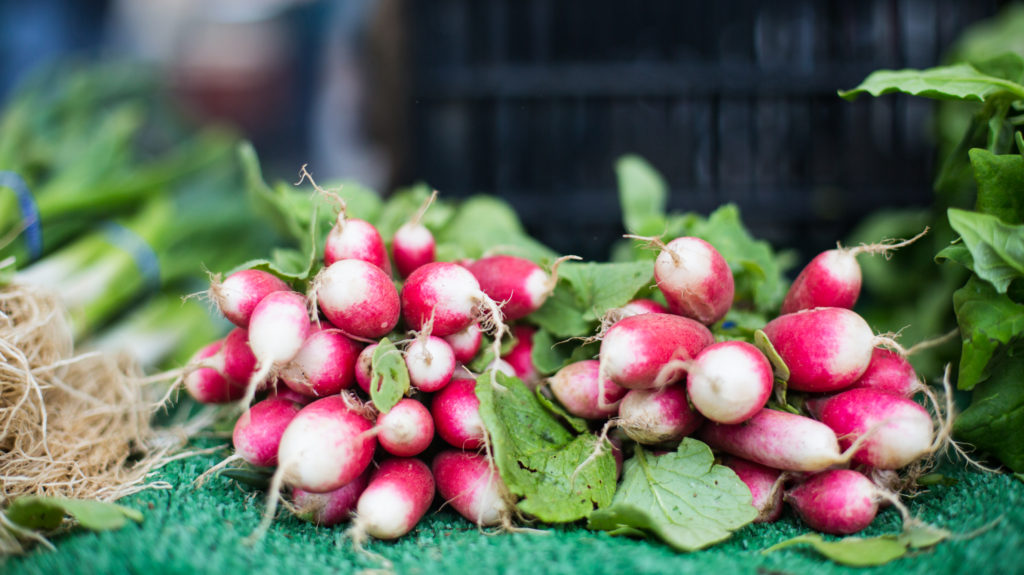 French Breakfast Radish
Radishes with 
good 
butter (I'm talking pasture raised cows, possibly raw milk, deliciously yellow, amazing smelling butter) and salt make for a decadent feeling snack, but oddly, outside of blog posts and my Mom's Thanksgiving table, I don't see this pairing offered much. Let's all make a concerted effort to bring this snack back in full force, shall we?  Serve French Breakfast Radishes and Butter with wine at your next get together, and add them to your brunch routine.  You won't be disappointed, and these radishes are always instagram ready.
I find that while they can be spicy, this variety is very sweet when harvested young and small.
Cute as a button, French Breakfasts are perfect for crudite, great in salads, cut lengthwise to maintain it's pretty coloring and patterns, and also great roasted or sautéed.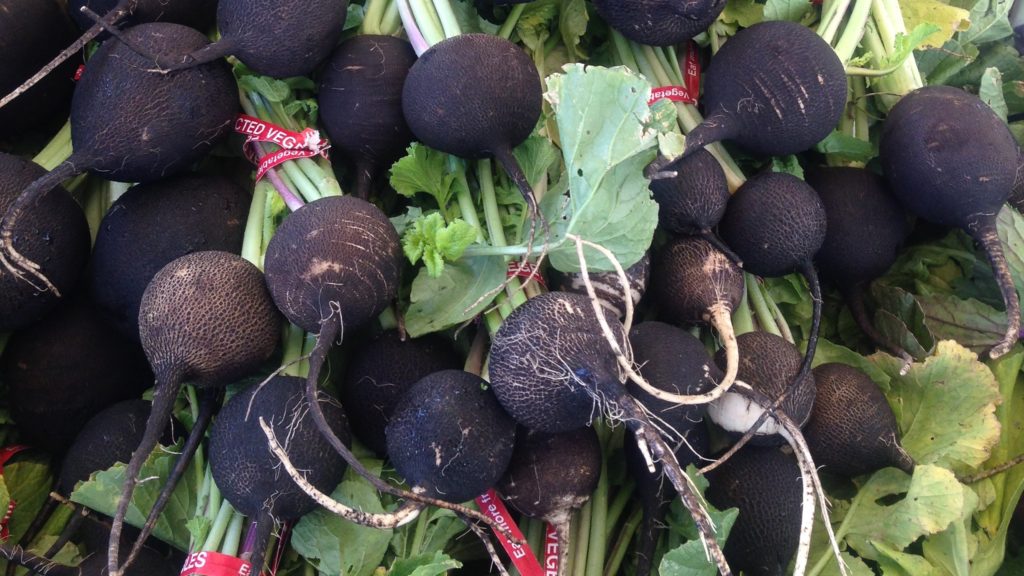 Black Radish
The most striking and spiciest of the radishes. black radishes have a stark white flesh that provides an amazing contrast and beauty for plating, but eat at your own risk, these guys can get pretty hot.
A fun thing to do with the beautiful white flesh is to grate it, or mash it into a dip or puree.  Think wasabi replacement, or mixed with cream to take the place of a horseradish sauce for steak.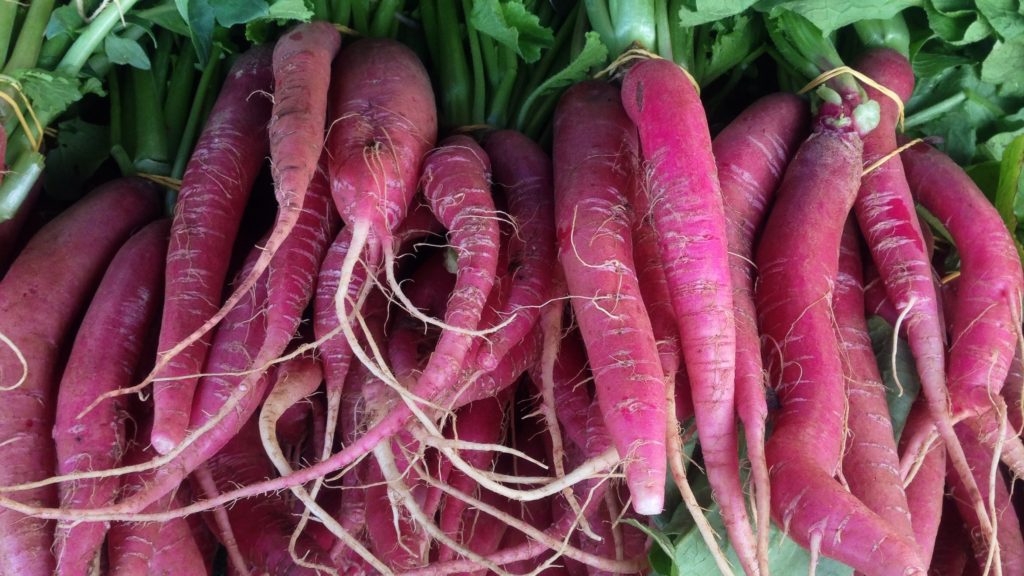 Shunkyo Radish
I remember the first day I laid eyes on this pretty, pink radish.  I love all radishes, but the Shunkyo is like the fancy, classy, cousin of the other radishes. 4 inches long, slim, and pretty in pink, you'll feel fancy too if you cut this radish lengthwise, toss it in sesame oil, sprinkle with salt and serve as a simple appetizer or side dish.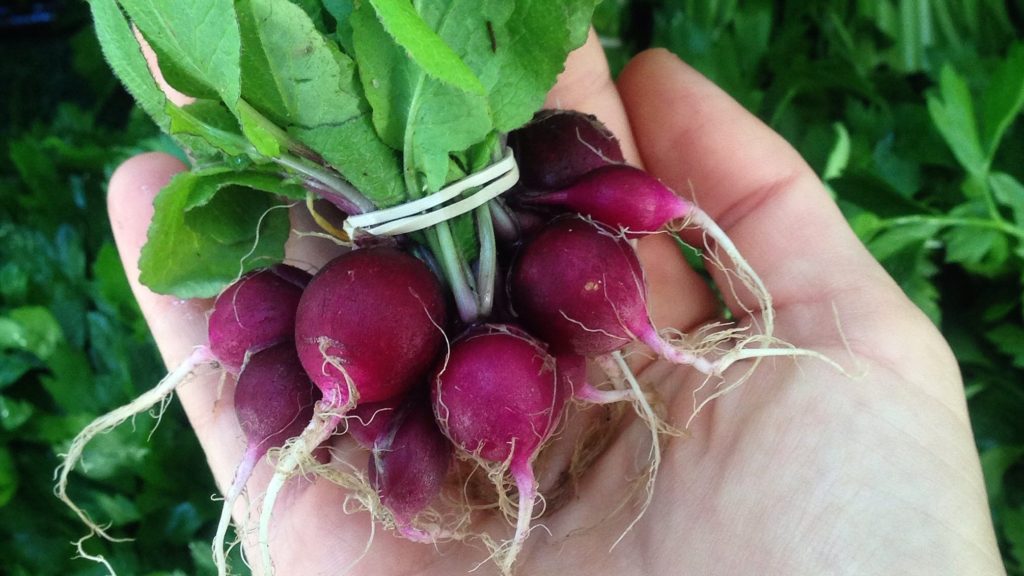 Baby Radishes
Many varieties of radish can be found in "baby" size. Picked when young to make they are adorable, bite size radishes perfect for a designer crudite or roasting whole.
In the Mood for Something New?
Try This Recipe for Roasted Radishes + Rosemary
Ingredients
Mixed radishes
Fresh rosemary
Olive oil
Salt + Pepper
Preparation
Depending on size of the radishes, slice them in half, in quarters, and/or leave them whole – Variation in size will create a great mix of tastes and textures.
Toss the radishes with Olive Oil, Salt, Pepper, and coarsely chopped Fresh Rosemary
Spread out in a single layer on a foil lined baking sheet, and roast at 450 degrees for 12-15 minutes.  Toss once, halfway through cooking.
The result will be tender, sweet radishes that you'll be telling all of your friends about.