Every once in a while we have a genius idea! It may not be original, but it's genius...and beautiful, and delicious and it saves a boatload of time.
We had big plans for Easter, and they involved coloring and decorating eggs like our resident crafty lady, Becca Murray, did here with the ladies of Sirens and Scoundrels. We planned an afternoon full of natural dies, markers, washy tape, and probably some glitter. It was going to be so fun!
Then reality hit and our schedules started to fill up. We each had a few hours to spare, but the truth was it could take a few hours for red cabbage to color water enough to stain our eggs.  And when we started counting the number of pots, cups, tools needed along with the clean up, we decided maybe it wasn't the year for colored eggs.
Enter pickled eggs.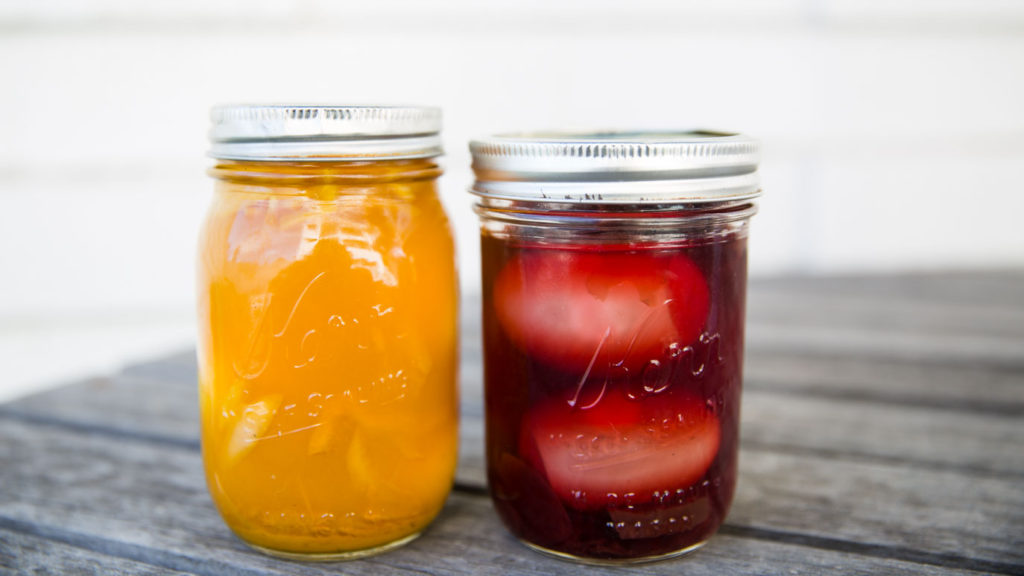 While celebrating the birthday of a mutual lady love over dinner, Becca mentioned that she had recently started pickling vegetables in the brine leftover after eating all the pickles in a jar. I was floored. What a GENIUS idea!  How had this never crossed our minds before?! With Easter quick approaching, we decided to 'color' our eggs by pickling them.  And we'd take the easiest course of action possible.
Enter Phat Beets.
Rick's Picks 'phat beets' are a top seller for the brand and the perfect pickling agent for beet pickled eggs. Rick's pickles their beets with cider vinegar, onion, lemon juice, a touch of brown sugar, ginger, rosemary, allspice, cinnamon sticks and clove.
We placed our boiled, then peeled, eggs into a large mason jar. Then transferred the vinegar mixture and some of the beets into the jar covering the eggs as best we could.  We capped the jar, popped it into the fridge and checked on them each day, giving them a little shake to help ensure even color distribution and no funny white spots on the eggs at the top of the jar.
Three days later, we had beautiful beet-pickled eggs!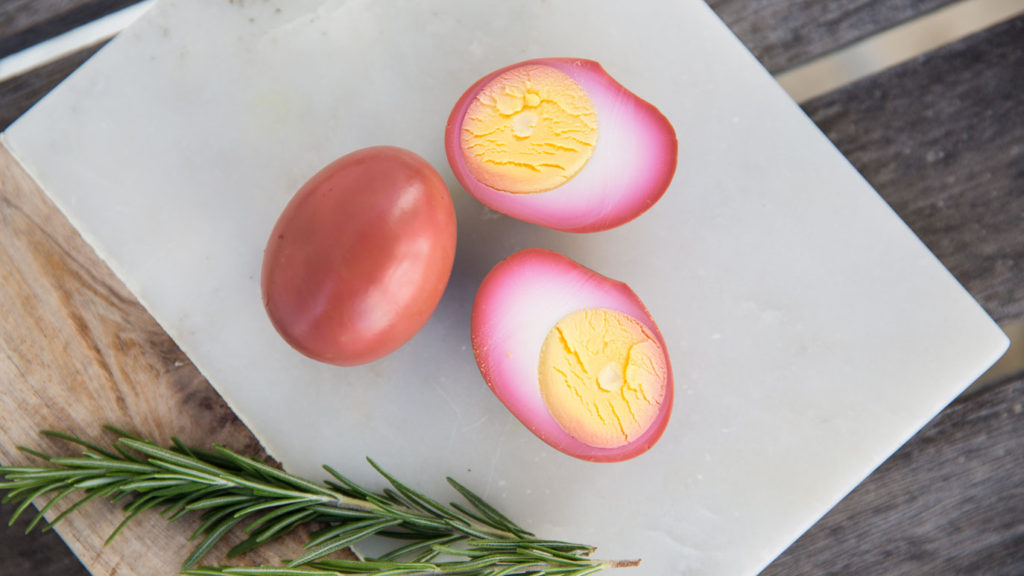 Now, you didn't think we'd settle for just one type of pickled egg, did you?
Enter 101 Cookbooks.
Heidi Swanson's stellar recipe for turmeric pickled eggs on 101 Cookbooks couldn't be any easier. We followed her recipe, then placed our boiled eggs in a mason jar, covered them with the vinegar mixture and refrigerated them for three days.  The yellow color is stunning and the flavor matches suit.
Not only will these beauties make an appearance on our Easter party board, but we foresee them becoming a regular recipe in our rotation for everything from afternoon snacks, to deviled eggs, and shredded on a salad.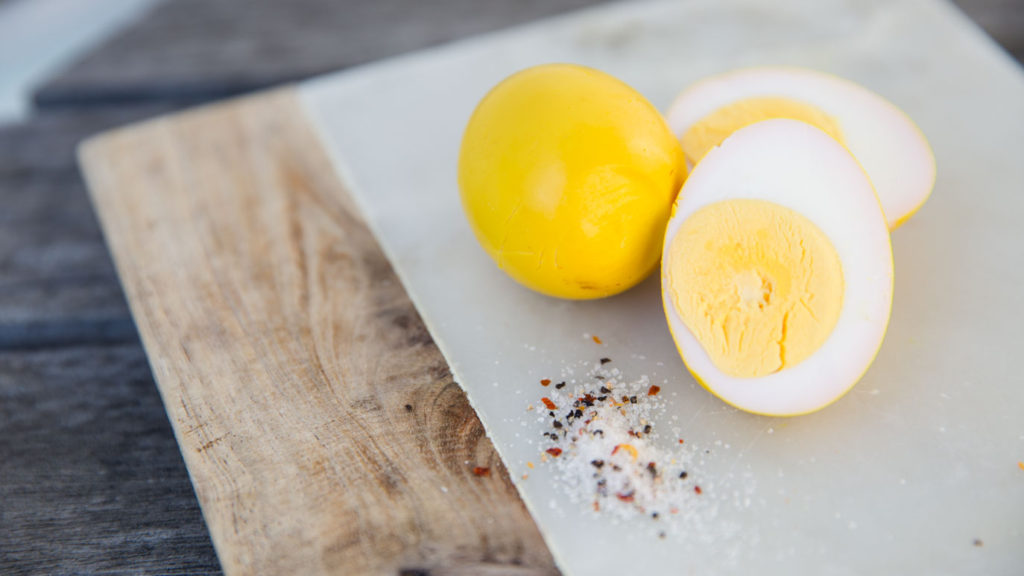 Turmeric Pickled Eggs via 101 Cookbooks
Ingredients
6 hard-boiled eggs
1 1/3 cup apple cider vinegar
1/2 cup water
2 tablespoons sugar
1 teaspoon fine grain salt
2 teaspoons ground turmeric
1/2 onion (or 4 shallots), thinly sliced
1 tablespoons whole peppercorns
Preparation
Eggs
Place the eggs in a pot and cover with cold water by half an inch or so. Bring to a gentle boil, then turn off the heat and cover. Let the pot sit for ten minutes. In the meantime, prepare a large bowl of ice water. When the eggs are done cooking, use a slotted spoon to place them into the ice bath. When the eggs are cool, remove them and crack and peel.
Pickling Mixture
In a small saucepan bring the vinegar, water, sugar, salt, and turmeric to a simmer. Stir until the sugar dissolves. Place the onion, peppercorns, and eggs in a glass quart jar. Pour the vinegar mixture over the eggs, secure the lid, gently rotate to move the shallots around, and refrigerate for up to ten days – two weeks.