When the cold weather and cold + flu season hit, there is nothing better to warm us up, or get us on the road to recovery, than this chicken + turmeric soup.
Chicken soup holds a special place for many of us. Warming us up on snowy or rainy days, making us feel better when we're under the weather, and for some of us, helping us feel close to home when we're miles from our family.
This recipe starts with a gathering of ingredients, most importantly roast chicken and bone broth.  We recommend roasting the chicken and making the broth at home, if you have the time, but you've got options….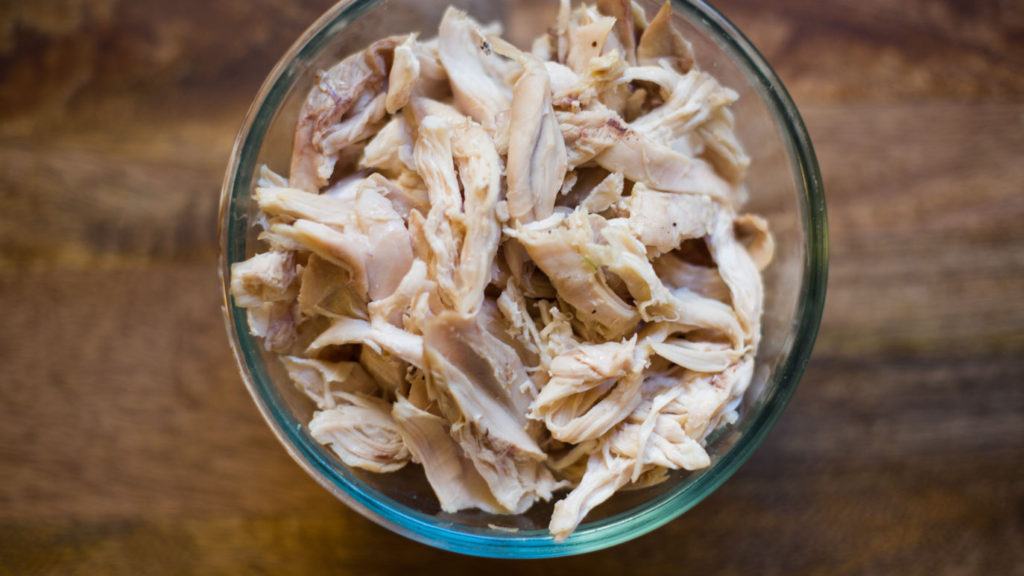 Got 5 or more hours?
Roast a chicken + make bone broth at home with the foolproof recipes at the end of the post. Then reserve and set aside all of the pan drippings and juices for use in the soup.
Limited on time or a bit scared to roast your own chicken?
Pick up a roasted chicken from a trusted source – if it's organic or pasture-raised reserve the bones to make broth.
Really limited on time?
Buy a pre-roasted chicken and bone broth from a trusted source. We're not talking boxed broth here – there is a big difference between that and bone broth – visit our
marketplace
to purchase Primal Pastures organic bone broth.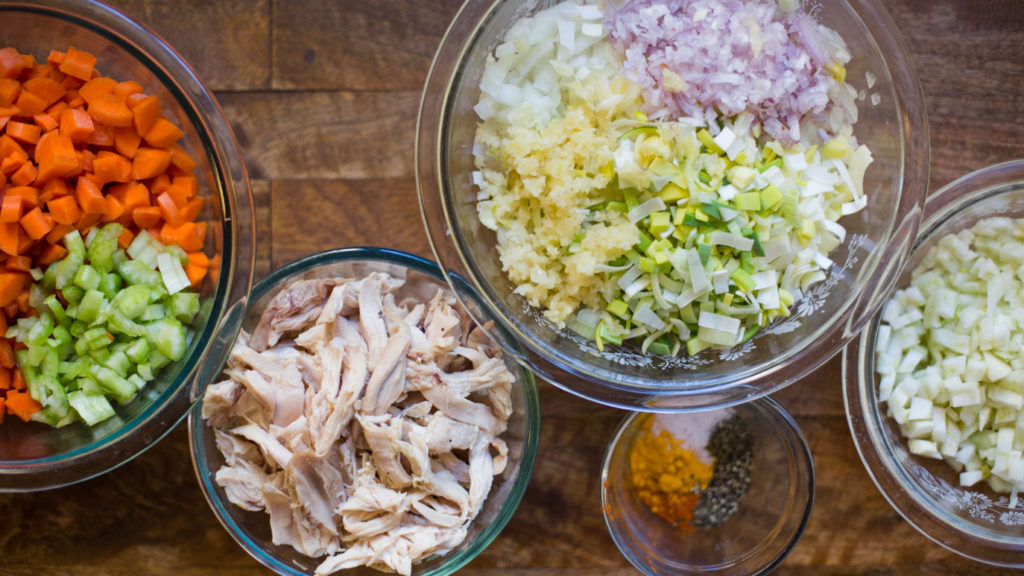 Carve the chicken (it doesn't have to be pretty) and shred the meat into bite-sized pieces. We love a mix of dark and light meat for our soup, and the leftover meat is perfect for preparing lunches and quick dinners.
Next, the aromatics, veggies and herbs are prepared in individual bowls based on how they are cut and when they'll be added to the pot. You'll thank us for all these bowls and this do-ahead prep later when you're whipping up the soup and feel like you're hosting a cooking show instead of rushing around your kitchen.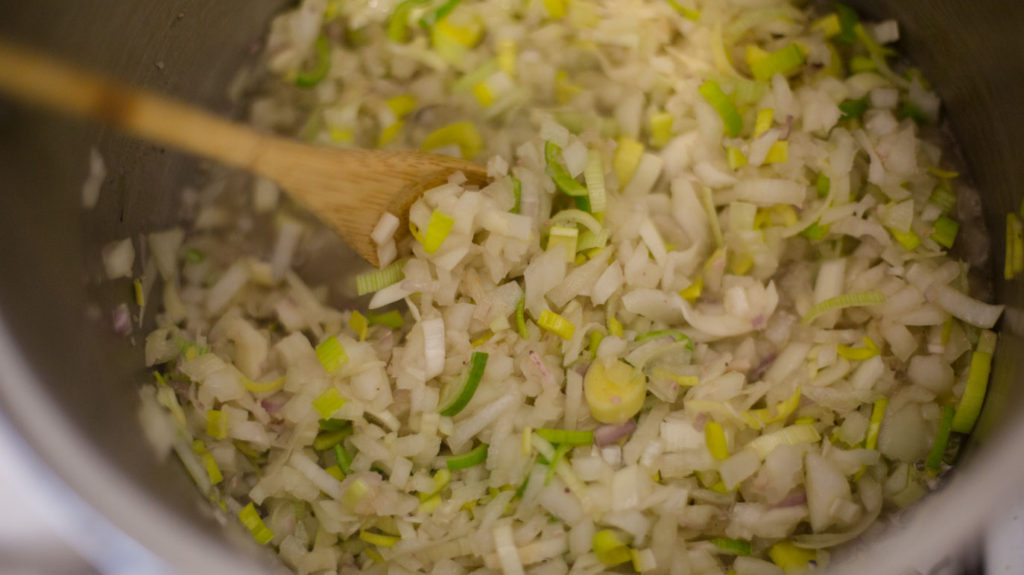 Now it's time to start cooking! In a large pot, big enough to hold the finished pot of soup, add the pan drippings from the home roasted chicken (butter or olive oil if you purchased a roasted chicken), then add the aromatics, mixing occasionally, until the onions are translucent.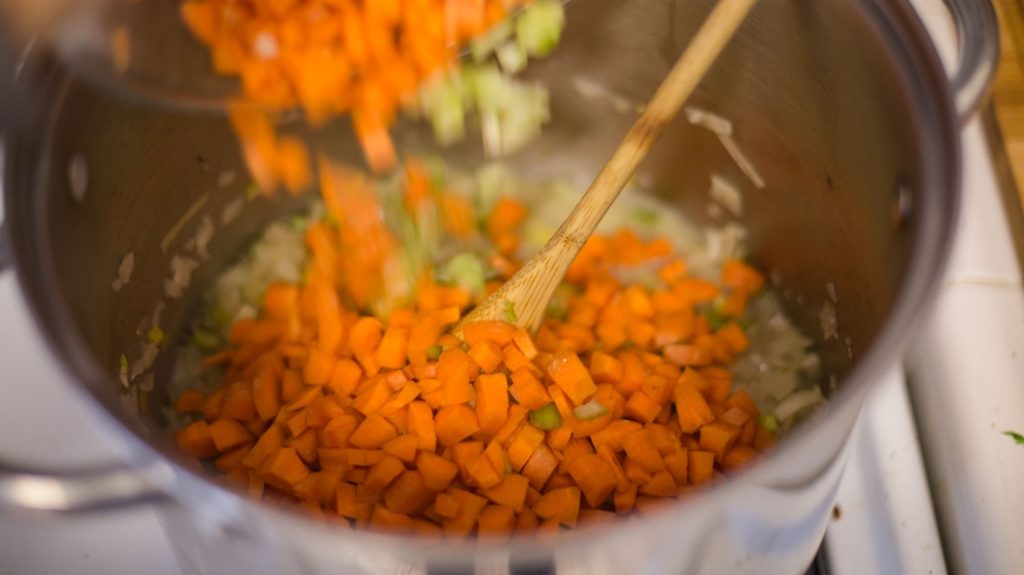 Veggies and spices are added to the pot next, followed by the bone broth, and then the soup is simmered allowing the flavors to combine.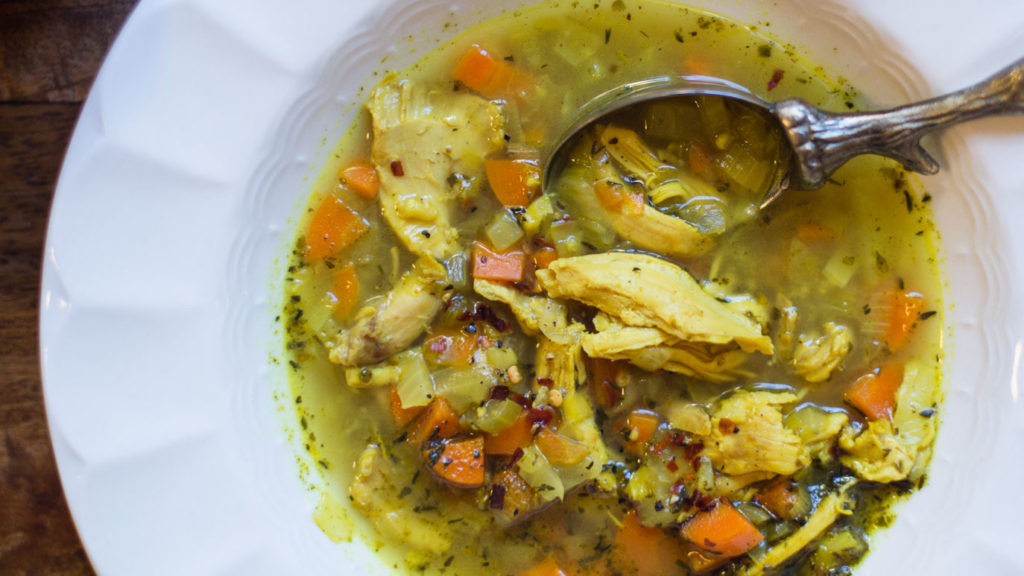 The finished product is a hearty bowl of soup with a golden color and deep, flavorful broth. Pair it with a hot mug of apple cider vinegar and ginger tea for an added health boost, then wrap yourself in a blanket and enjoy.
Ingredients
1 Organic Chicken, roasted
1 Leek
1 Onion
1/2 head of Garlic
2 Shallots
1 Fennel Bulb
1 Stalk of Celery
8 large Carrots
Chicken Broth, 3-4 Cups
Water
Salt + Pepper
1 tsp. each + more to taste, dried Turmeric, Basil, Thyme, Oregano, Sage + Cayenne pepper
Recipe
Finely chop the leek, onion, garlic + shallot and place in a bowl.
Coarsely chop the fennel and set aside.
Coarsely chop the celery + carrot and set aside.
In a large pot, warm up the pan juices from the roasted chicken, or butter/olive oil, over medium heat.
Add the first bowl containing the onion, leek, garlic and shallots and cook until the onions are translucent and soft, about 10-15 mins
Add the fennel and cook until soft
Add the third bowl with celery and carrot + the spice mixture, and stir to combine.
Pour the chicken broth into the pot. Fill the rest of the pot with water, if needed.
Bring to a simmer and allow to cook for about 2 hours.
Add the chicken when there is 1 hour of cooking  to go.
The soup is ready to eat, or it can be frozen and reheated when the weather, your mood, or your health, calls for a warm bowl of deliciousness.
Roast Chicken Recipe
Coat the chicken with olive oil and stand it upright in a roasting pan so all the skin gets crispy (you can eat it later)
Roast at 400 degrees for 20 mins, then reduce the heat to 350 and continue cooking for another 45 minutes
Check the temperature of the chicken – breasts should be at 160 degrees, thigh meat should reach 170-180.
Once to temp, remove the chicken from the oven and allow it to cool a bit.
Once cooled, carve the meat from the bone and save the pan juice.
Bone Broth Recipe
Place the bones in a large pot (or crock pot). They should fill the pot about 1/3 of the way.
Fill the rest of the pot with water, and bring to a boil over high heat.
Reduce the heat to medium and cover with a lid so the broth is continually bubbling but not at a rolling boil.
Cook until the water has reduced by half, then add more water and allow it to reduce
at least
one more time.
This process should take at least 5 hours, but can be done overnight or for a full day for best results.